Blowers / Vacs
Call in today to see our range of Blowers and Vacuums to help keep your garden tidy. Leaf Blowers and Garden Vacs are a great way to keep your garden looking pristine. Easy to use with satisfying results, these gardening machines will make quick work of clearing the leaves and debris from your garden, leaving it in a healthier and tidier condition.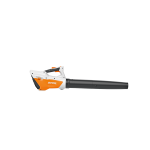 Easily manoeuvrable cordless blower for cleaning small outdoor areas at home. Round nozzle, integrated battery with charge level indicator. Battery charging time: 210 min/300 min (80%/100%). Approximate working time up to 10 minutes.
The blowing force of this powerful yet light blower is perfectly suited to clearing leaves, twigs and light debris from around the home and garden. Designed with comfort in mind, the BGA 56 is well balanced, length adjustable and easy to control. It's a great time saver compared to raking or sweeping up leaves.(Includes AK20 Battery and AL101 Charger).
Packed with power and run by a fuel efficient low emissions engine, the top-of-the-line BG 86 C-E handheld debris and leaf blower has comfort features professionals will appreciate.